Wij staan met een bijzonder project in het magazine The Art of Living.
The Art of Living is het woonplatform en toonaangevend magazine voor luxueus wonen 

Het project moderne villa in de duinen van architectenbureau Jules Zwijsen waarbij Van Houts Projects het stucwerk exterieur en isolatie en microtopping van de badkamers voor onze rekening hebben genomen. In het filmpje een uitgebreide indruk van dit fantastische project waarbij er een nauwe samenwerking heeft plaatsgevonden met Strikolith en BMN bouwmaterialen.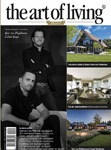 Klik op een foto voor een slideshow, u kunt weer terugkeren naar de pagina door op de Esc knop te klikken
 reportage met meer info over het project